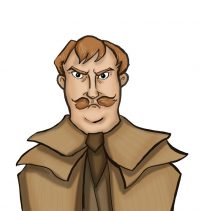 Adrian Tutley was a wizard who lodged a complaint with the International Confederation of Wizards about the Uagadou School Animagi Team. Their performance of "synchronized transforming" astounded the crowd attending an International Symposium of Animagi (Pm: Uagadou). Many older wizards, including Mr. Tutley, "felt threatened by fourteen-year-olds who could turn at will into elephants and cheetahs." Adrian Tutley was himself an Animagus who could transform into a gerbil (Pm: Uagadou).
Adrian Tutley
Distinguishing Features
Animagus who turns into a gerbil
Commentary
Notes
While the name reveals little, the fact that Adrian turns into a gerbil, a tiny nervous rodent, suggests something about his personality. It is not surprising that he was frightened by young teenagers turning into ferocious beasts.
Pensieve (Comments)
Tags: complaints nervous threaten