"I stole the diadem."
-- Helena Ravenclaw (DH31)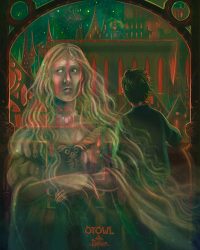 More commonly known as "The Grey Lady," the Ravenclaw ghost.
Harry and Ron first encounter this tall ghost as she glided past in the corridor while out looking for the Mirror of Erised (PS12). Harry eventually discovers that The Grey Lady is Helena, the daughter of Hogwarts founder Rowena Ravenclaw. Helena stole her mother's diadem and ran off to Albania. Her mother became deathly ill soon after and sent Helena's estranged fiance to find her and bring her back. When she refused, the baron (now The Bloody Baron) killed her and committed suicide in remorse. (DH31).
Helena Ravenclaw
Species / Race
Witch, ghost
School
Hogwarts - Ravenclaw
Profession
Ravenclaw House Ghost
Commentary
Notes
Before Deathly Hallows was published, Rowling told a fan named Nina Young that the Grey Lady is "a highly intellectual young lady" and a woman with strong scholarly or literary interests. "She never found true love as she never found a man up to her standards."
In Harry Potter and the Deathly Hallows - Part 2, Helena Ravenclaw (The Grey Lady) is played by Kelly Macdonald.
Pensieve (Comments)
Tags: anger daughters family issues gray murder resentment stealing stolen theft