"That's why I'm here, of course. Panju. He's in trouble again. I wanted to just send a Howler but Padma insisted I come in person."
-- Ron Weasley (CC2.9)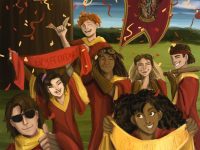 Panju Weasley is the son of Ron Weasley and Padma Patil in an alternate timeline caused by the use of the Experimental Time Turner (CC2.9).
Skills
always getting into trouble
Panju Weasley
School
Hogwarts - Gryffindor
Commentary
Etymology
Panju does not seem to be an Indian name. However, there is an island near Mumbai called Panju Island (Wikipedia), as well as a Tamil language film called Panjumittai (meaning "cotton candy") (Wikipedia).
Notes
When time is put right again, Panju no longer exists.
Pensieve (Comments)