"They've crashed, Ted! Crashed in the garden!"
-- Andromeda Tonks (DH5)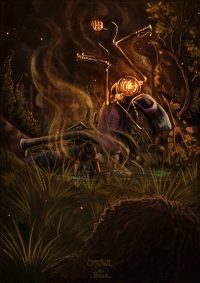 The Battle of the Seven Potters ends with Harry and Hagrid crashing into the pond, within the magical protections surrounding Tonk's house. Voldemort, who was in pursuit, cannot pass through the magical barrier. Harry is safe, at least for now.
Timeline Notes
The Battle lasted for about an half hour, starting at around 9:30 -- a half-hour after sunset when twilight turns to darkness -- and ending around 10 pm with the crash into the pond at the Tonks residence.
The Battle of Seven Potters ends with a motorbike crash
Date
late July 27th, 1997
Certainty
Inferred from canon
Type of Event
Wizarding world
Commentary
Notes
We have no indication of the location of Ted's house, not knowing the actual speed of the motorcycle. Just a rough guess, however, taking into account the twists and turns of the battle, might suggest that Ted and Andromeda live within 30 miles of Privet Drive.
Pensieve (Comments)