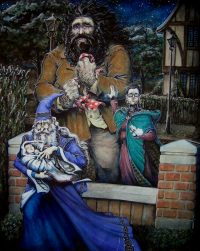 Hagrid arrives with Harry on Sirius's flying motorbike. Dumbledore is waiting in Privet Drive to leave the baby with the Dursleys.
Timeline Notes
There are twenty-four hours missing from the chronology of events between Voldemort's attack on the Potter family and Hagrid bringing Harry to Dumbledore.
Hagrid delivers baby Harry to Dumbledore in Privet Drive
Certainty
Stated in canon
Type of Event
Wizarding world
Commentary
Notes
This event appeared as chapter 1, moment 3 of Harry Potter and the Philosopher's Stone on Pottermore.
In the summer of 2004, Rowling's publishers changed Hagrid's line "I'll be takin' Sirius his bike back." to "I best get this bike away." because this sentence didn't fit very well with the way the character of Sirius was developed as the series progressed.
Pensieve (Comments)
Tags: anger fame inconsistencies mourning sadness