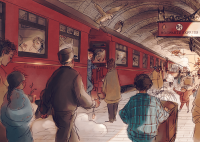 She designates this magical space in the newly-built King's Cross Station as the London terminus for the Hogwarts Express, which had been established as the only way to travel to Hogwarts by her predecessor, Ottaline Gambol.
Timeline Notes
King's Cross Station opened to the public in 1852. Rowling writes:
It was Evangeline Orpington, Minister from 1849-1855, who hit upon the solution of adding a concealed platform at the newly (Muggle) built King's Cross station, which would be accessible only to witches and wizards (Pm).
We will place the year for Platform 9 and 3/4's construction to coincide with the opening of the station itself.
Minister for Magic Orpington establishes Platform 9 and 3/4
Certainty
Date based on real world calendar
Type of Event
Wizarding world
Commentary