"THERE IS NO HARRY POTTER HERE! I DON'T KNOW WHAT SCHOOL YOU'RE TALKING ABOUT! NEVER CONTACT ME AGAIN! DON'T YOU COME NEAR MY FAMILY!"
-- Vernon Dursley, shouting back at Ron Weasley on the telephone (PA1)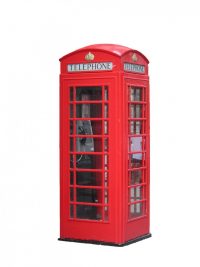 Ron is unfamiliar with telephones and shouts extremely loudly into the mouthpiece. Unfortunately, it was Uncle Vernon who answered the call and his response was "THERE IS NO HARRY POTTER HERE!" (PA1).
Timeline Notes
The date is derived from the date of the end of the school year and this sentence in PA1:
Harry was particularly keen to avoid trouble with his aunt and uncle at the moment, as they were already in an especially bad mood with him, all because he'd received a telephone call from a fellow wizard one week into the school vacation.
We don't know the exact date of the end of the 1992-1993 school year, so this date might actually be a few days into July.
Ron tries to call Harry on the telephone
Certainty
Inferred from canon
Commentary
Notes
While Ron is ignorant of the use of the telephone, his mother is more adept. She uses the phone in the town to order a couple of taxis to take the family to King's Cross on the first of September in 1994:
Mrs. Weasley had braved the telephone in the village post office to order three ordinary Muggle taxis to take them into London (GF11).
If only Ron had consulted the Muggle-born daughter of dentists Hermione beforehand....
Pensieve (Comments)