"Peskipiksi Pesternomi! ...Well, I'll ask you three to just nip the rest of them back into their cage."
-- Professor Lockhart to Hermione, Harry and Ron (CS6)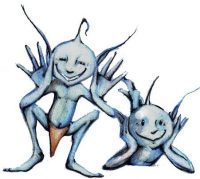 incantation
Lockhart's version of a Freezing Charm.
References from the canon
Lockhart tried this spell on the escaped Cornish Pixies. It had no effect. The spell words certainly don't fit the usual format, so it seems likely that Lockhart was making the whole thing up on the spot (CS6).
Peskipiksi Pesternomi
Incantation
Peskipiksi Pesternomi
Pronunciation
pes-kee PIK-see pes-ter-NO-mee
Commentary
Etymology
"pesky" + "pixie" + "pester" + "no" + "me"
Pensieve (Comments)
Tags: inconsistencies