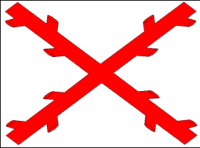 New Spain was the colony of Spain in the southern part of the North American continent much of which became Mexico in 1821. New Spain was established with the conquest of the Aztecs in 1521.
The New Spain National Quidditch team playing in the Quidditch World Cup final in 1809 against Romania, the final which has become known as the Attack of the Killer Forest.
Commentary
From the Web
New Spain originally included modern day Mexico, Central America, much of the Southwestern and Central United States, the Spanish West Indies and Spanish Florida. It later expanded to include the Philippines and other Pacific islands (Wikipedia).
Pensieve (Comments)