"I wanna be a wizard..."
-- Jacob Kowalski after hearing Tina and Queenie sing the Ilvermorny song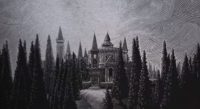 The Ilvermorny school song is sung to celebrate the North American magical school. Its lyrics recall the history of the founding of the school and the dangers of Muggle persecution at that time:
We stand as one united
Against the Puritan
We draw our inspiration
From good witch Morrigan
For she was persecuted
By common wandless men
So she fled from distant Ireland
And so our school began
Oh, Ilvermorny-Massachusetts
We choo-choose it
We choo-choose it
The wizard school supreme
Your castle walls, they kept us safe
The days with you, a dream
You taught us all our magic
And now one thing's quite clear
Where'er we roam
Where'er we roam
Our one true home
Our one and own
Is Ilvermorny dear
Morrigan is a figure from Irish mythology and an ancestor of the Sayre family. In the song, the name refers to Isolt Sayre, the young Irish witch who fled to North America and eventually founded Ilvermorny school. Her father had nicknamed her Morrigan because of her affinity with nature.
Commentary
Notes
The song was co-written by Rowling and Alison Sodol, who played Queenie. Alison said, 'I wrote the melody and Jo wrote the lyrics. So, we co-wrote the song, which is wild!' (Pm).
Pensieve (Comments)