Everything turns a bit darker in Book Five. Lord Voldemort has returned. Dementors show up in unexpected places. And Harry is unhappy, even when he has re-joined his friends before the end of the summer.
Ready to find out why? Let's go!
Podcasts: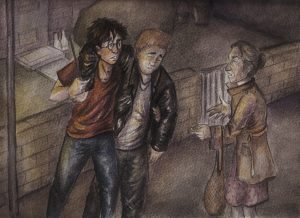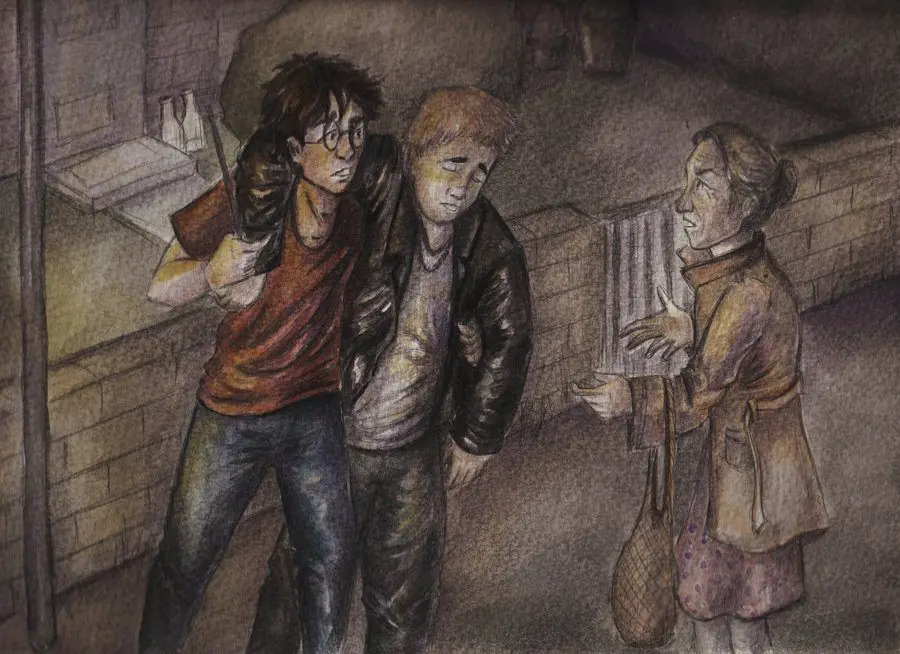 Encore Presentation: OP 1: Drought by Steve VanderArk
OP 2: Kneazles by Steve VanderArk
OP 3: Why Not Side-Along Apparition? by Steve VanderArk
OP 4: Discovering Grimmauld Place by Steve VanderArk
OP 5: I Don't Think I Like This Book by Steve VanderArk
OP 6: Drawing Room Delights by Steve VanderArk
OP 7: The Ministry of Magic by Steve VanderArk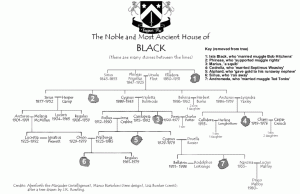 OP 8: Sweet Victory Forshadowed by Steve VanderArk
OP 9: What is a "Flint?" by Steve VanderArk
OP 9: Lucius? I Remember Him by Steve VanderArk
The Twins' O.W.L.s by hpboy13
Number Twelve by Selena Gallagher
Portraits by Eileen Jones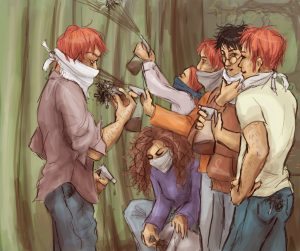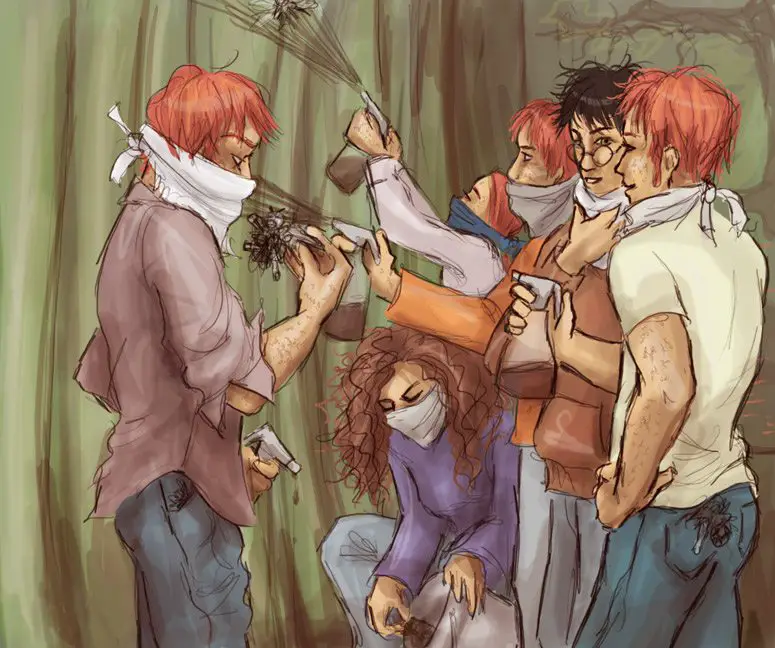 The Photograph and the Boggart by Abby Koop
Seeing is Believing by Eileen Jones
Episode 3: "There's an Elf Head Hanging Outside the Window" by Steve VanderArk
Episode 10: "This Gap Is Where It All Changed" by Steve VanderArk
Reader's Guides:
These guides were originally written in March of 2002. Since that time, a few edits were made here and there but basically the text remained the same. To get ready for this Canon Celebration, our editors have been revising each one. We've added fan artwork to the Guide which illustrates the text. At the bottom in the Commentary section we've added a gallery of additional artwork. So even if you've read our guides before, please give them another look. And if you're doing a re-read of the first book, have the Guide to each chapter open as you go! I'm sure you'll find a lot of information you didn't know.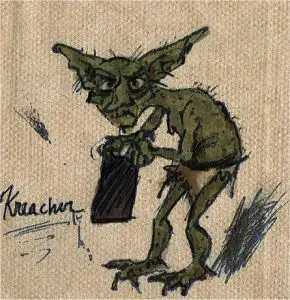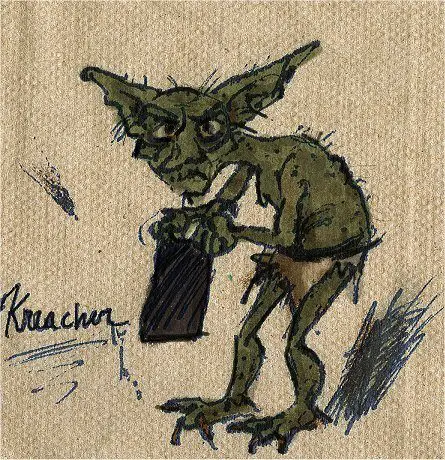 Reader's Guide to Chapter 1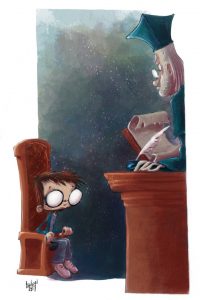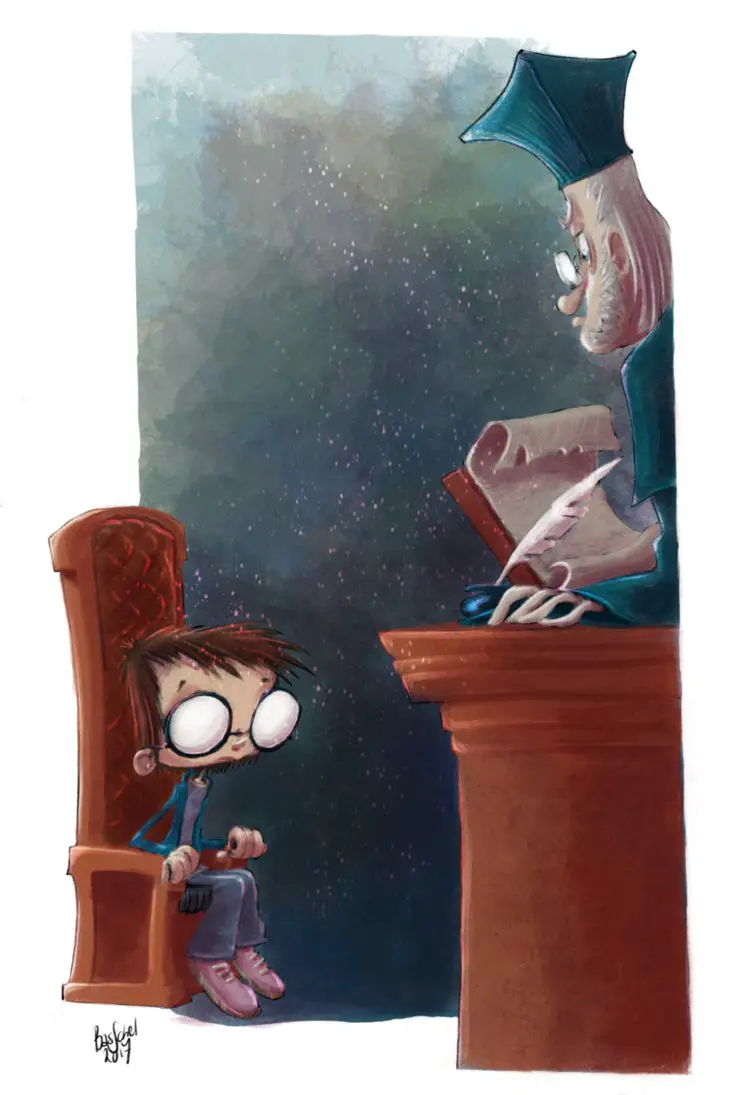 Reader's Guide to Chapter 6
Calendars
Fitting the books into the real-life calendars isn't easy! In fact, it's impossible. But that didn't stop us:
Day by day calendar of events in the book
Text Changes of the Editions and the Years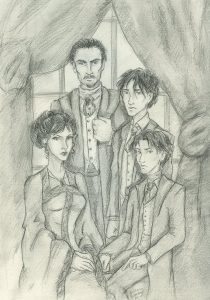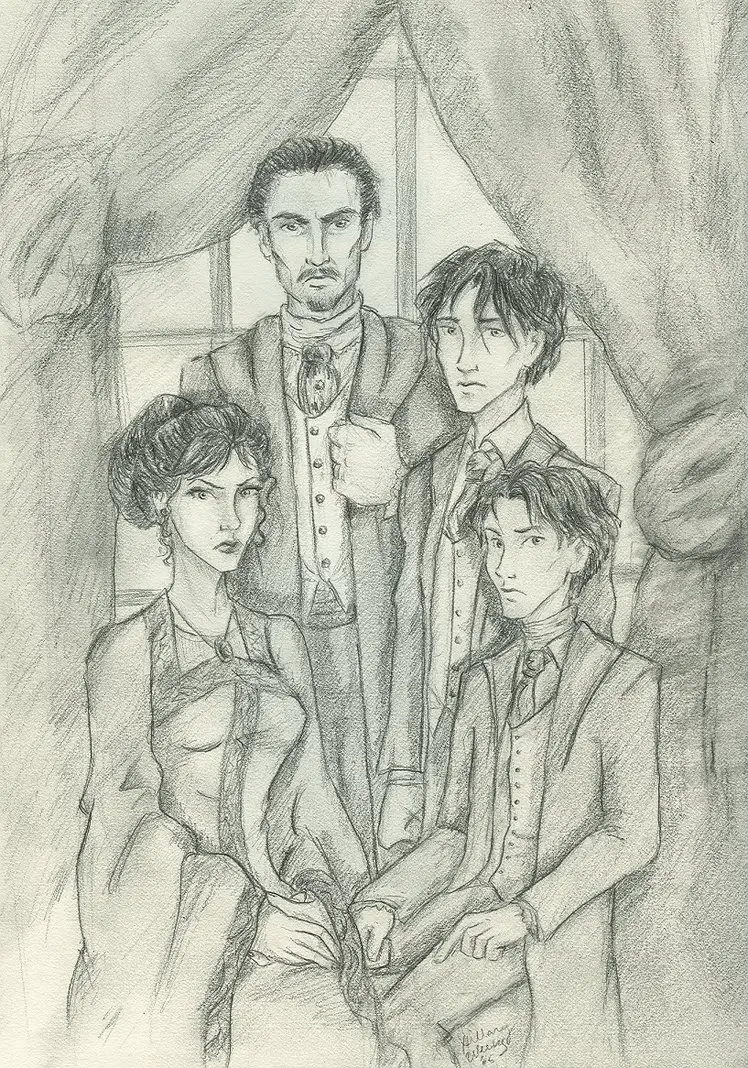 Differences between the British and American versions
Essays
In Search of Little Whinging by Ravenclaw Rambler
How Safe is Privet Drive? by Jen Reese
The Tragedy of Petunia Dursley by Ali Hewison
Surrey: Showing the Location of Little Whinging (on the scene investigation) by Nik the Hermit
In Search of … Grimmauld Place by Ravenclaw Rambler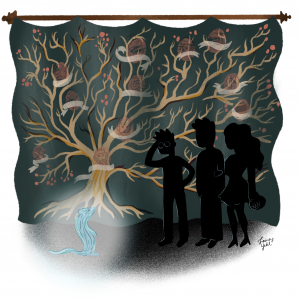 How A Man Treats His Inferiors by Abby Koop
Only Black in Name: Andromeda Black Tonks by Cathy McCabe
Arthur Weasley's Relationship to Sirius Black: First Forays into the Black Family Tree by Sylvie Augustus
Ginny Weasley: A Gryffindor and a Match for Harry by Tim Lambarski
Interesting Artwork
We have hundreds and hundreds of pieces of fan artwork in our collection. Some subjects get a lot of depictions — Diagon Alley is a favorite topic, for example, and, well, of course it is! But there are a few pieces which illustrate more unusual moments in the text. Here are a few examples: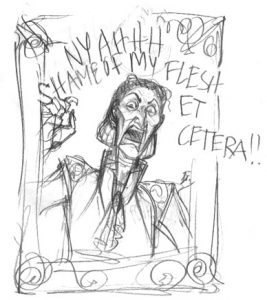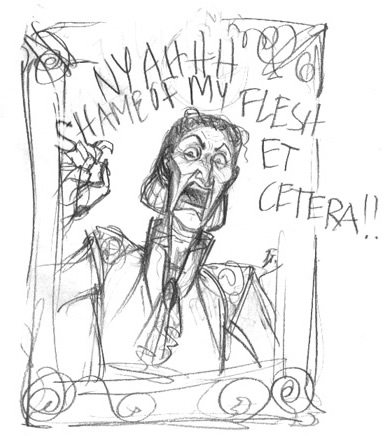 The portrait of Sirius Black's mother Walburga (OP4)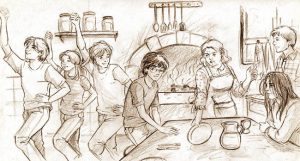 Fred, George and Ginny were doing a kind of war dance
to a chant that went: "He got off, he got off, he got off …" (OP9)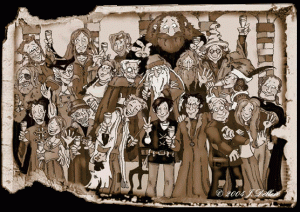 Photograph of the original Order of the Phoenix (OP9)
Artwork Challenge
Our Artwork Challenge for all you fan artists out there is to depict one of the lesser known scenes and characters in the series. If we really like your work, we may feature it in the Lexicon! Here are some suggestions from these chapters:
Send your artwork to [email protected]. By submitting it, you are giving us permission to display your work on the Lexicon. We would like to include your name with your artwork so you are properly credited, so when you send your work let us know what name to use. Please also include a way to get a hold of you so that if we decide to feature your work as part of our regular collection we can contact you for more details. All artwork we display remains the property of the artist and they retain all copyright.
Special Feature: The Ministry of Magic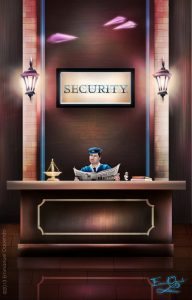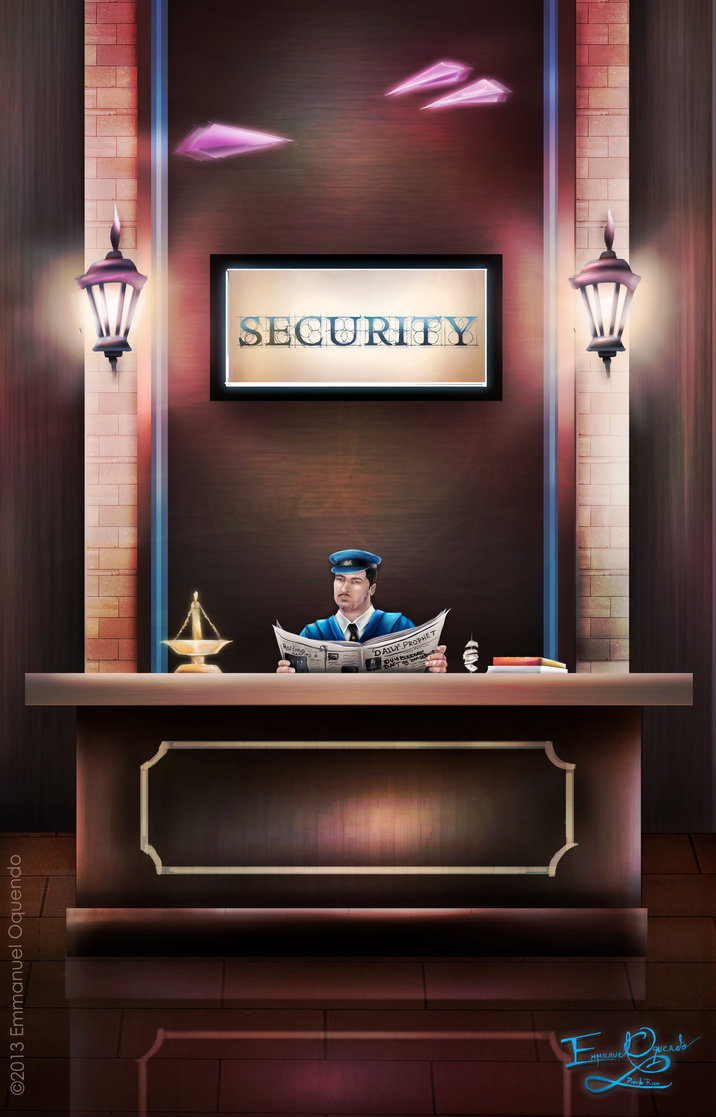 In Chapter 7, we finally get to go inside the Ministry of Magic, a place we have been hearing about since the very first book.
The magic starts even before you arrive. The visitor's entrance is through an old-fashioned red telephone box.
"No, no, I'm sure it's fine," said Mr Weasley, holding the receiver above his head and peering at the dial. "Let's see … six …" he dialled the number, "two … four … and another four … and another two …"
As the dial whirred smoothly back into place, a cool female voice sounded inside the telephone box, not from the receiver in Mr Weasley's hand, but as loudly and plainly as though an invisible woman were standing right beside them.
"Welcome to the Ministry of Magic. Please state your name and business." (OP7)
All of the department names we hear while Harry and Arthur Weasley are in the lift are so very intriguing. What fun it would be to be able to explore all of them properly!
"Level Seven, Department of Magical Games and Sports, incorporating the British and Irish Quidditch League Headquarters, Official Gobstones Club and Ludicrous Patents Office."
"Level Six, Department of Magical Transportation, incorporating the Floo Network Authority, Broom Regulatory Control, Portkey Office and Apparition Test Centre."
"Level Five, Department of International Magical Co-operation, incorporating the International Magical Trading Standards Body, the International Magical Office of Law and the International Confederation of Wizards, British Seats."
"Level Four, Department for the Regulation and Control of Magical Creatures, incorporating Beast, Being and Spirit Divisions, Goblin Liaison Office and Pest Advisory Bureau."
"Level Three, Department of Magical Accidents and Catastrophes, including the Accidental Magic Reversal Squad, Obliviator Headquarters and Muggle-Worthy Excuse Committee."
"Level Two, Department of Magical Law Enforcement, including the Improper Use of Magic Office, Auror Headquarters and Wizengamot Administration Services." (OP7)
Harry gets a little bit of time to look around on the second level – particularly where the Aurors are headquartered. It may be that this helps him decide on his future career path later in the book (OP29).
From the Atlas: Grimmauld Place
Sirius Black allows his ancestral family home at Number Twelve Grimmauld Place to be used as the headquarters for the Order of the Phoenix.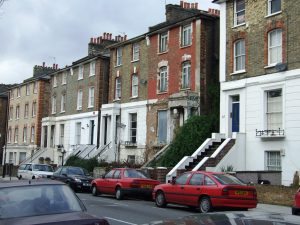 So, where in London is Grimmauld Place? Wherever it is, the houses are supposed to be look both "grim" and "old". Places of that description are not very hard to find all over Greater London.
In Ravenclaw Rambler's essay In Search of … Grimmauld Place, the areas around King's Cross Station are considered – and mostly discarded – as possible candidates for its location. Of course, J K Rowling may have had an impossible place that doesn't fit at all into the real world in her mind's eye when she wrote about it.
For my book In Search of Harry Potter, I explored the area around King's Cross trying to find a square which fit the description of Grimmauld Place. According to clues in the books, the square would have to be within one mile of King's Cross but closer to another, more run-down Underground station. The houses would have to be quite tall, since Grimmauld Place has five floors. I discovered only one square which met those criteria: Lonsdale Square in Barnsbury. Houses in that square, built in the mid-1800s, stand four or five stories tall. The nearest Underground station is Highbury & Islington but King's Cross is within a 20-minute walk. –SVA
Coming up next week…
It is time for the students to go back to Hogwarts! What changes will there be this year? Who will be the new Defence Against the Dark Arts teacher? Join us next week for the Lexicon's Canon Celebration of Chapters 10 to 27 of Harry Potter and the Order of the Phoenix.
Podcast: Play in new window | Download (Duration: 2:38 — 3.3MB)
Subscribe: Google Podcasts | Stitcher | RSS
Commentary