"'Near-human intelligence'? ...We consider that a great insult, human! Our intelligence, thankfully, far outstrips your own."
-- Magorian to Dolores Umbridge in the Forbidden Forest (OP33)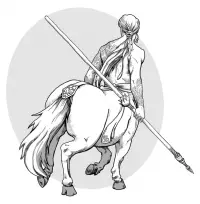 Magorian acts as the leader of the Centaurs of the forest. He is not as rash as Bane, but he does not trust humans (OP30, OP33).
Magorian
Distinguishing Features
Chestnut-colored
Commentary
Etymology
The name Magorian is pseudo-Greek, which is fitting for a Centaur because those creatures come from Greek mythology.
Pensieve (Comments)