"Forgive and forget, I say, we ought to give [Peeves] a second chance -".
-- The Fat Friar (PS7)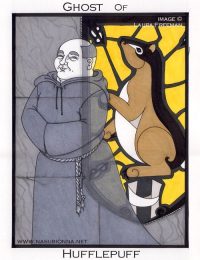 The Fat Friar is the house ghost of Hufflepuff.  He is a jolly, friendly ghost who cheerfully wishes the first years good day and hopes they'll be in Hufflepuff (PS7). He was executed after senior churchmen found it suspicious that he could cure the pox by pointing a stick at peasants. He resents that he was never made a cardinal (Pm).
The Fat Friar
Distinguishing Features
Stout appearance
School
Hogwarts - Hufflepuff
Commentary
Notes
The image of a fat, jovial friar who cares a bit too much about the pleasures of food and drink is a familiar one in literature, particularly to anyone who remembers the character of Friar Tuck in the legends of Robin Hood. The religious orders which take the name 'friar' date back to the 1200s so the Fat Friar couldn't have been the Hufflepuff ghost until that era. Of the four main Orders of the Catholic Church, the Augustinian ideals seem to most closely match those of Hufflepuff, and it is likely that the Fat Friar was a follower of Augustine. Augustinians do not seek out the exceptional or exclude those who are marginalized in society. They seek to build community founded on love and respect for all.
Pensieve (Comments)