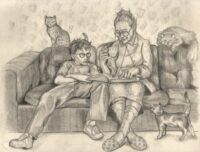 Tufty was a Kneazle-cat cross owned by Arabella Figg. Tufty was intelligent and could understand human language.
Harry was pleased not to have to look at photos of Tufty after Mrs. Figg broke her leg (PS2).
Family
Tufty was part of Mrs. Figg's household, along with the rest of her cats,  Mr. Tibbles, Mr. Paws, and Snowy.
Skills
Surveillance, can understand human language.
Tufty
Species / Race
Kneazle/cat
Commentary
Tags: animals cats communication intelligence pets