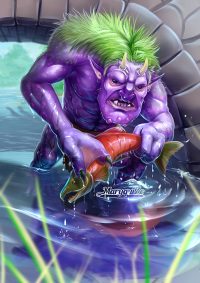 The River Troll has hairy purple skin and short horns. It is often found lurking under bridges (FB).
Famous wizard Almerick Sawbridge defeated a troll in the River Wye (FW).
Commentary
Notes
River trolls under a bridge are the basis for the children's tale "The Three Billy Goats Gruff", which originated in Norway. Three goat brothers try to cross a bridge and are confronted by an angry troll, and each goat tells the troll to wait for the next larger brother to eat. The third brother is large enough to knock the troll back into the water where he is swept away downstream, while the goats lived happily ever after.
Pensieve (Comments)