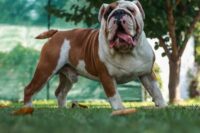 She brings Ripper, her favorite bulldog. Harry accidentally steps on Ripper's tail and the dog "trees" him. Marge finally calls the dog off around midnight.
Timeline Notes
This would be sometime around Dudley's birthday, June 23rd.
When Marge comes to visit during the summer of 1993, Harry remembers past incidents:
"On her last visit, the year before Harry started at Hogwarts, Harry had accidentally trodden on the tail of her favorite dog. Ripper had chased Harry out into the garden and up a tree, and Aunt Marge had refused to call him off until past midnight. The memory of this incident still brought tears of laughter to Dudley's eyes" (PA2).
Harry also recalls this event in his Occlumency lessons.
"He was nine, and Ripper the bulldog was chasing him up a tree and the Dursleys were laughing below on the lawn..." (OP24).
He was nine in June 1990 because his own tenth birthday was still a month away.
Aunt Marge comes to Dudley's tenth birthday party
Type of Event
Muggle world
Commentary