"Well ... when we were in our first year, Harry -- young, carefree, and innocent -- Well, more innocent than we are now -- we got into a spot of bother with Filch ... So he hauled us off to his office and started threatening us with the usual --detention, disembowelment -- and we couldn't help noticing a drawer in one of his filing cabinets marked Confiscated and Highly Dangerous ..."
-- Fred and George describing how they found the Marauder's Map (PA10)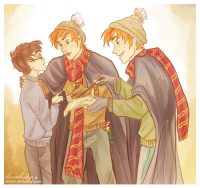 They discovered the map in their first year and put it to good use until bequeathing it to Harry in December, 1993. At that point they claimed to have it memorized.
Timeline Notes
The twins' first year was 1989-1990, so they found the map at some point between September 1989 and June 1990. Assuming that they have a few months to get acclimatized to their surroundings, we'll place the discovery of the map in the first half of 1990.
Fred and George leave a Dungbomb in the corridor, get in trouble, and discover the Marauder's map
Type of Event
Wizarding world
Commentary