"Come back! Dad'll kill me!"
-- Ron Weasley, shouting at the back of the car as it disappeared into the forest (CS5)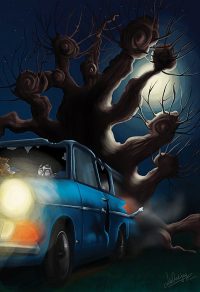 After Harry and Ron can't get onto platform 9 and 3/4, they take Mr. Weasleys' Ford Anglia and fly it from the train station in London to Hogwarts. When they arrive, they are attacked by the Whomping Willow. Once they escape and get far enough away, the Ford Anglia throws out Harry and Ron as well as their things before driving off into the Forbidden Forest.
Ford Anglia Goes Wild
Date
evening September 1st, 1992
Certainty
Stated in canon
Type of Event
Wizarding world
Commentary