"Didn't hear my Intruder Charm go off, I was taking a bath."
-- Horace Slughorn (HBP4)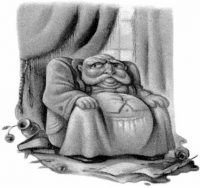 Warns a wizard of intruders in the home.
References from the canon
Horace Slughorn had set a Intruder Charm on his house in Budleigh Babberton (HBP4).
Commentary
Notes
Possibly similar to the Anti-Intruder Jinxes around Hogwarts that were mentioned by Tonks, but used more to alert the inhabitants of a place than to punish the intruder with dark consequences (HBP8).
Pensieve (Comments)
Tags: warnings