"Password's 'pine fresh.'"
-- Cedric Diggory (GF23)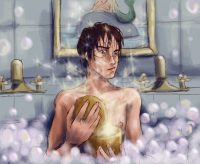 A very luxurious private bathroom reserved for Hogwarts prefects. It is located on the Fifth Floor of Hogwarts castle and features an enormous bathtub and magical water taps.
Cedric's directions to Harry on how to reach the prefects' bathroom were extremely clear: "fourth door to the left of the statue of Boris the Bewildered on the fifth floor" (GF23). The door requires a password, and can be bolted from the inside. No mention is made of any portrait or statue guarding the room's entrance; apparently the door itself recognizes the password. There is one piece of artwork in the bathroom itself, however, a rather flirtatious picture of a mermaid in a golden frame on one wall. Myrtle, who occasionally enjoys spying on the prefects as they bathe, doesn't seem to like her much.
Inside, the bathroom's walls, floor, and single sunken bathtub are all made of white marble, lit softly by a candle-filled chandelier that impressed Harry on his first visit. The rectangular tub is the size and depth of a swimming pool, and even has a diving board, but unlike an ordinary pool the tub is lined with about a hundred taps, each with a differently coloured jewel set into the handle. Each tap automatically releases not only water, but bubble bath (a different kind of bubble bath for each colour-coded handle). A pile of fluffy white towels are kept in one corner and there are white linen curtains (GF25).
Commentary
Notes
In terms of the series' literary alchemy, this setting is full of meaning. White seems to be the predominant color in the bathroom and it is mentioned repeatedly. And, obviously, water and the idea of washing are pretty key here. These represent the purifying middle stage of the alchemical process, and Harry visits this place about mid-book in preparation for the middle task of the tournament (in the middle book of the series, no less). -BB
Pensieve (Comments)