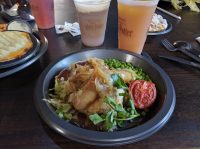 In this episode recorded on December 19th, Steve, Nick, and Barbara all record from the same room, which happens to be a hotel room in Anaheim Hills, CA as we were on a Disney filled vacation involving Disneyland and touring the Walt Disney Studios.
What's new in the Lexicon
Not much, we talked about mystery pages on the old lexicon that have shown up in analytics.
Harry Potter News
There's now an official Harry Potter RPG coming.  We talk about how exciting this is and what we are hoping for out of the game.  Steve and Barbara talk about Stardew Valley, a game that it is mentioned this game is based on.  We also talk a little bit about Portkey Games, the new Warner Brothers Interactive and Pottermore for wizarding world games.
We also talk a bit about the latest updates (as of then) from the production of Fantastic Beasts: The Crimes of Grindelwald and how much we are looking forward to it.
Why Voldemort Killed his parents in 1942, not 1943
Our first of two main topics this episode is a discussion about the phrase "In his sixteenth year."  Every so often we get feedback stating that we are wrong to put the murder of Tom Riddle's parents in 1942 instead of 1943 as other sites on the internet are known to do.
Steve explains why the murders have to take place in 1942 because "In his sixteenth year" means "his sixteenth year of life" as opposed to "when he was sixteen."  We also discuss a bit about the different levels of canon and how to make decisions on things such as what position James played on the Quidditch team.
Is Gamp's Law a Legal or a Scientific Law?
Our next topic of conversation is about Gamp's Law of Elemental Transfiguration.  The three of us had long run under the assumption that Gamp's Law is the magic equivalent of a Scientific law, such as the laws of thermodynamics, or the law of gravity.  That is to say that it is an explanation of how magic works and why.  A recent essay that Steve had read, however, assumed that Gamp's Law was actually a written legal law to prevent misuse of magic.
After our discussion, we are still pretty convinced that Gamp's Law is a scientific law, but we're eager to know what you think down in the comments.
We also take this opportunity to discuss what Gamp's Law really is based on what we know of the wizarding world.
Wrap Up
We hope you enjoy this special episode as much as we enjoyed recording it.  It is a rare treat that we can sit down together and record a podcast live.
Podcast: Play in new window | Download (Duration: 1:02:54 — 102.6MB)
Subscribe: Google Podcasts | Stitcher | RSS
Commentary