"Quidditch matches have been the bane of my life in the Harry Potter books."
-- J K Rowling, Leaky Cauldron/Mugglenet interview, 16 July 2005 (TLC)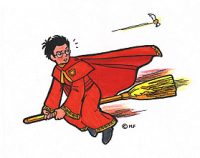 Quidditch is the wizard sport that everyone – well, almost everyone – in the Wizarding World is mad about. It features high levels of danger and unpredictability. The strange rules and seemingly unfair scoring system of Quidditch are more than a bit illogical. But what outweighs these objections are the thrills – thrills for the spectators in the stadium and thrills for the players. It can be a very exciting game.
Quite early on, at a National Press Club luncheon in 1999, Jo Rowling said
"…. [the wizards] they'd have to have their own sport. So I had a lot of fun making up the rules of Quidditch. It's a violent and dangerous game…."
— J K Rowling, 20 October 1999 (NPC)
As a former teacher, she also said that
"….sport is such an important part of life at school. I am terrible at all sports, but I gave my hero a talent I'd love to have had. Who wouldn't want to fly?"
— J K Rowling interview, Scholastic.com, 16 October 2000 (Sch2)
Quidditch in the Wizarding World is not just about Quidditch at Hogwarts. Jo has written in detail about two Quidditch World Cup tournaments (GF8, QWC), as well as reports on professional team matches (DP1, DP2, DP3, DP4) and short vignettes on historical World Cup matches (QWC).
Harry's relationship with Quidditch plays an important part in the plots of all seven of the Harry Potter books. In Harry Potter and the Philosopher's Stone comes the discovery of the joy of flying on a broom. He takes to it immediately, "a natural", and becomes the "the youngest house player" on the Gryffindor Quidditch team "in a century" (PS9). Certainly, in four of the books, the Hogwarts Quidditch schedule informs the shape of Harry's year – having to balance Quidditch with his studies – and he does feel that Quidditch is "the only thing ….he was really good at" (CS14).
So beyond that, why do I think Quidditch is really important to Harry Potter?
In the Philosopher's Stone, Harry hones his Quidditch and flying skills. He gains confidence. When he, Hermione and Ron have to overcome the obstacles in the dungeon to get to the Stone's hiding place, Harry is able to catch the flying keys as if they were a Snitch in a Quidditch match.
Other than a win against Slytherin and endless practice sessions for the team, Quidditch does not play a part in the solution finding out and defeating the supposed "Heir of Slytherin" in the second book Harry Potter and the Chamber of Secrets. Harry's skills improve and he learns more about coping with danger and injury.
The Gryffindor Quidditch team win the coveted Quidditch Cup in the third book Harry Potter and the Prisoner of Azkaban. He has to balance more practice and games with his studies. His flying skills mean he is not afraid to fly Buckbeak up to the tower window to save Sirius Black.
A direct result of his Quidditch seeking skills comes into play during the Triwizard Tournament when he flies on his broom to snatch a dragon egg from a nesting mother dragon in the First Task. This dive is similar to the Wronski Feint move of Viktor Krum that he sees earlier in the Harry Potter and the Goblet of Fire book during the final match of the Quidditch World Cup. He escapes Lord Voldemort, but it is not without both sorrow and death occurring.
As time goes on, Harry matures and continues to develop skills, many of which come together in the fifth book, Harry Potter and the Order of the Phoenix. Faced with an inadequate Defence Against the Dark Arts teacher, Harry is talked into teaching other students the skills they need both to pass their exams and perhaps someday to be able to fight against evil. He, not Dumbledore, is the leader of Dumbledore's Army. He also takes the lead in going to the Department of Mysteries in the Ministry of Magic – on what he thought was going to be a rescue mission, but turns out to be a battle.
In Harry Potter and the Half-Blood Prince, Harry not only becomes the captain of the Gryffindor Quidditch team, but also has private lessons with Dumbledore. These are not lessons in fighting or lessons on leadership, but lessons to show him some of Lord Voldemort's life and how they give an insight into their evil enemy's thoughts. This leads to a quest to find one of the Horcrux objects that will help to defeat the Dark Lord. Although unsuccessful, Harry is now ready to take over the quest – and ultimately to fulfil his destiny.
Harry Potter and the Deathly Hallows departs from the school setting – Harry, Hermione and Ron are initially on the run from Lord Voldemort and his Death Eaters. It is more important that ever that Harry concentrates on finding the Horcruxes in order to defeat the Dark Lord. In the end he finds strength within himself to both lead and let go. Where does this strength come from? I would argue that it comes at least in part from Harry's involvement with Quidditch.
Harry has to grow up and learn to take responsibility for himself and others before he can defeat Lord Voldemort. Playing Quidditch helped him to do just that.
Podcast: Play in new window | Download (Duration: 5:26 — 10.0MB)
Subscribe: Google Podcasts | Stitcher | RSS
Commentary
Notes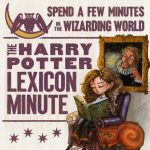 In the Harry Potter Lexicon Minute podcast you'll hear the voices of our editors sharing some of the many little things which delight us about the Wizarding World. In each podcast, just a couple of minutes in length, we'll talk about anything from cool trivia and interesting canon passages to the latest Wizarding World news. We hope you'll join us! And we'd love to hear from you as well. Feel free to use the comment section on the blogpost for each podcast to post your thoughts.
Special thanks go to Felicia Cano who gave us permission to use her amazing artwork of Hermione reading a book for the logo, which was created by Kim B.
Check out the PodBean app here
And if you want to create a podcast of your own, check out PodBean's hosting service.
Music: "Winter Chimes" Kevin MacLeod (incompetech.com)
Licensed under Creative Commons: By Attribution 3.0 License
http://creativecommons.org/licenses/by/3.0/
Pensieve (Comments)