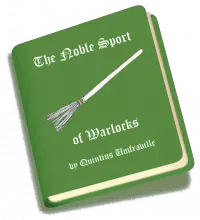 Quintius Umfraville was the author of the book The Noble Sport of Warlocks, a seventeenth-century description of the game of Quidditch.
His book describes a pitch with scoring areas – which simplified the Keeper's role – and baskets mounted on higher goalposts than previously recorded (QA6).
Commentary
Etymology
Quintius is a Roman name, derived from Quintus (Latin "fifth"). It was given to the fifth child in a family or a child born in the fifth month of the Roman year (Behind the Name).
Umfraville is an Anglo-Norman family name from the North of England, possibly derived from the French town of Amfreville in Normandy (Theodora Encylopedia, Wikipedia). There is also another Umfraville family from Glamorgan in South Wales, who owned Penmark Castle (Castles of Wales).
Pensieve (Comments)