"... my moste wicked and subtle friend, with bodie of Ellhorn, who knowes ways of magick moste evile".
-- Godelot, writing about the Elder Wand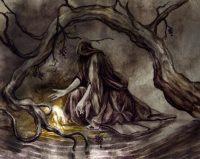 Godelot studies Dark Magic and writes a book of dangerous spells called Magick Moste Evile. He possesses the Elder Wand, which he credits as helping him write his masterwork. Godelot dies when his son Hereward locks him in the cellar to languish and steals the Elder Wand.
The Dark Wizard Godelot advances the study of Dark Magic
Certainty
Stated in canon
Type of Event
Wizarding world
Commentary