"That's when they decided there was only one way to stop me, I suppose, and they went for Gran. Thing was, they bit off a bit more than they could chew with Gran. Little old witch living alone they probably thought they didn't need to send anyone particularly powerful. Anyway, Dawlish is still in St. Mungo's and Gran's on the run."
-- Neville Longbottom (DH29)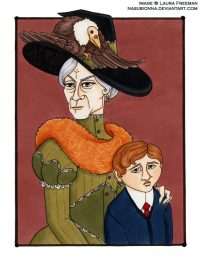 The overworked auror John Dawlish attempts to arrest Augusta Longbottom at her home as a means to intimidate Neville, who has been leading the resistance at Hogwarts. Dawlish assumes that dealing with an old woman living alone would be a simple matter but learns otherwise. Augusta is no pushover. Dawlish is overpowered and injured and Gran goes into hiding. Dawlish spends an extended amount of time at St Mungos, recovering (PC-JKR1, DH29, DH31).
Dawlish tries to arrest Augusta Longbottom
Certainty
Stated in canon
Type of Event
Wizarding world
Commentary
Notes
As an auror, Dawlish was a very talented wizard. However, according to Rowling, his abilities were significantly compromised from numerous showdowns with members of the Order of the Phoenix - and Augusta Longbottom was a powerful witch in her own right (PC-JKR1).
Pensieve (Comments)
Tags: Auror remembrall fights injuries