"Storm forecast for tonight! And this gentleman's kindly agreed to lend us his boat!"
-- Uncle Vernon (PS3)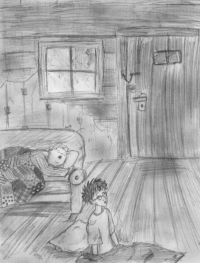 Uncle Vernon rows the family out to the hut just off the coast. He brings a rifle along. However the only food he brought was a couple of bags of crisps and some bananas. Harry and Dudley sleep in the front room while Uncle Vernon and Aunt Petunia sleep in the other (PS3).
The Dursleys and Harry spend the night in the Hut-on-the-Rock
Date
Late July 30th, 1991
Certainty
Stated in canon
Type of Event
Muggle world
Commentary
Notes
I can't imagine how Uncle Vernon managed to row out to the rock. He doesn't seem the type to be very experienced with rowing a boat nor fit enough the manage it easily at all. --SVA
Pensieve (Comments)