"I think we'll be okay -- get off, Neville! What?"
-- Harry Potter, wondering why Neville is tugging at his sleeve (PS9)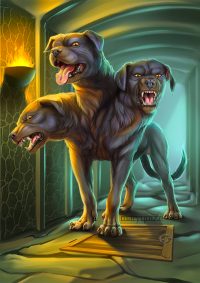 The trio plus Neville go to meet Draco for the midnight duel in the Trophy Room only to discover that Hermione was in fact correct and it was a trap. The four of them make a run for it, not paying attention to where they are going, and end up in the third floor corridor. Trying the door and discovering it locked, Hermione casts 'Alohomora.' and unlocks it. Not paying attention, they all run into the room close the door behind them. Only Neville at first looks into the room they just entered, and he has to get the attention of the others without further disturbing what was lurking there: Fluffy.
The Trio and Neville meet Fluffy in a midnight adventure
Date
Late September 12th, 1991
Certainty
Inferred from canon
Type of Event
Wizarding world
Commentary