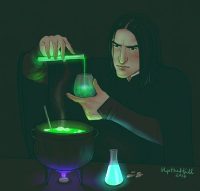 Antidote to Common Poisons is a general reversal cure for all poisons.
Ingredients
Bezoar
Mistletoe Berries
Unicorn Horn
Preparation
Pottermore Instructions:
Add 1 Bezoar to your mortar.
Crush it into a very fine powder using your pestle.
Add 4 measures of the crushed Bezoar to your cauldron.
Add 2 measures of Standard Ingredient to your cauldron.
Heat to a medium temperature for 5 seconds.
Wave your wand.
Leave to brew and return in 30 minutes.
Add 1 Unicorn Horn to your cauldron.
Stir 2 times, clockwise.
Add 2 Mistletoe Berries to your cauldron.
Stir 2 times, anti-clockwise.
Wave your wand to complete the potion.
References from the canon
Found in Magical Drafts and Potions by Arsenius Jigger (Pm).
Antidote to Common Poisons
Commentary
Notes
In the Prisoner of Azkaban video game there is another version of this potion called "Antidote to Uncommon Poisons."  During the game, Professor Snape tells a third-year class that the Antidote to Uncommon Poisons will to cure a Doxy bite. See this Game Faq for more information.
Pensieve (Comments)