"Gladrags Wizardwear - London, Paris, Hogsmeade"
-- advertisements appearing on a giant board during the 1994 Quidditch World Cup (GF8)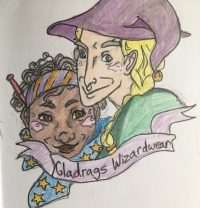 Gladrags Wizardwear is a clothier in Hogsmeade, with additional shops in London and Paris (GF8). Harry visited the shop in 1995, to pick out the craziest socks he could find as a present for Dobby (GF27).
Commentary
Notes
There is also a pop song called "Handbags and Gladrags" (1967), covered by singer Rod Stewart (1969) and was later used as the theme music for the BBC television programme "The Office" (2000) (Wikipedia).
Pensieve (Comments)