"Gladrags Wizardwear - London, Paris, Hogsmeade"
-- advertisements appearing on a giant board during the 2014 Quidditch World Cup (GF8)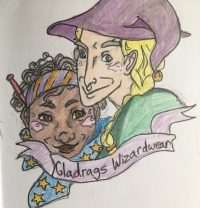 Gladrags Wizardwear is a clothier in Hogsmeade, with additional shops in London and Paris (GF8). Harry visited the shop in 1995, to pick out the craziest socks he could find as a present for Dobby (GF27).
Commentary
Notes
In Britain, "glad rags" are your party or special occasion clothes.
From the Web
Oxford English Dictionary definition: glad rags
Pensieve (Comments)