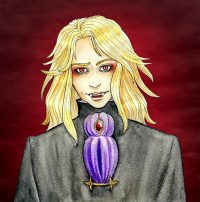 A book written by American vampire Amarillo Lestoat. So boring that the reader will fall into a stupor, rendering them easier prey for the vampire (FW).
Commentary
Etymology
"Amarillo" is the name of a city in Texas, in Spanish = yellow, for the wildflowers in the area
"Lestoat" = similar name to that of the Vampire Lestat in Ann Rice's novel Interview with a Vampire, which readers might find, well ... a bit boring at times.
Pensieve (Comments)