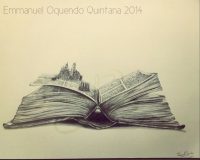 Ancient Egypt and Greece – 3000 BC through 100 AD
This is an era of Muggle/Wizard cooperation; many political and religious leaders were witches and wizards.
Growing distrust and prejudice – 100 – 1692 AD
Muggles begin to fear wizards. Some try to manipulate their magical bretheren for their own gain. At the same time, the wizarding community persecutes and marginalizes the goblin and house-elf populations. The Wizarding world is governed by the Wizard's Council. 
Early years 100-1100

Founding of Hogwarts – late 900s
Invention of Quidditch – 1000s

Middle years 1100-1300
Crisis builds – 1300-1700

Establishment of the Leaky Cauldron – 1500s
Establishment of St Mungo's hospital – early 1600s
Witch burnings and goblin uprisings – 1600s
International Statute of Secrecy – 1692
Founding of the Ministry of Magic – 1700
Era of Secrecy – 1700-1880
The Wizarding World is governed by the Ministry of Magic
Creation of the Hogwarts Express – 1835
The Modern Era – 1880-1998
Beginning of the Saga – 1880 – 1925
The Rise of Grindelwald – 1926-1945

Near-disaster in New York City ends with the arrest of Grindelwald – 1926
Defeat of Grindelwald in the duel with Albus Dumbledore – 1945

Peaceful years as Tom Riddle secretly becomes Lord Voldemort – 1945-1965
The Rise and Fall of Lord Voldemort – 1965 – 1998

The First Rise of the Dark Lord/The Marauders – 1970 – 1981
The Interim Years – 1981 – 1990
The Second Rise of the Dark Lord – 1990 – 1998

1991-1992 – including all of Harry's first year (PS)

Voldemort returns to Britain

1992-1993 – including all of Harry's second year (CS)
1993-1994 – including all of Harry's third year (PA)
1994-1995 – including all of Harry's fourth year (GF)

The Triwizard Tournament
The rebirth of Voldemort in the Little Hangleton graveyard

1995-1996 – including all of Harry's fifth year (OP)
1996-1997 – including all of Harry's sixth year (HBP)
1997-1998 – including all of Harry's seventh year (DH)

The Battle of Hogwarts and the final defeat of Voldemort
Commentary
Notes
This timeline overview of Wizarding history is compiled from many different sources. The overall tone of the various eras is evident in many references throughout the canon, particularly with regard to the rising tensions between Muggle and magical populations before 1700. The details of Voldemort's second rise to power and eventual demise are the subject of the novels. Eras are not named in the canon, but they are given titles here for sake of clarity and convenience.
Pensieve (Comments)
Tags: distrust history past persecution Quidditch history tension war