...the end of the room, where there was nothing except an old wardrobe in which the teachers kept their spare robes (PA7)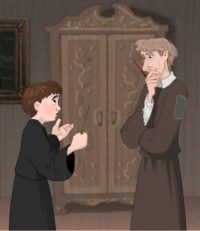 Definition
A large piece of furniture with a door, used for storing clothes and fitted with rails, shelves, hooks and the like, sometimes with a mirror on the inside of the door. Wardrobes tend to be used in places that don't have built-in closets.
Commentary
Notes
If this word was completely unfamiliar to you, please read
The Lion, the Witch and the Wardrobe by C.S. Lewis.
Pensieve (Comments)