" ...we forced him head-first into that Vanishing Cabinet on the first floor."
"But you'll get into terrible trouble!"
"Not until Montague reappears, and that could take weeks, I dunno where we sent him..."
-- Fred explaining to Hermione (OP28)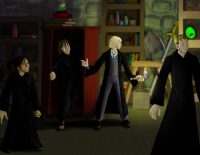 A black or black and gold magical piece of furniture, very valuable.
Commentary
Notes
In the Half-Blood Prince film, Draco uses the incantation 'Harmonia Nectere Passus" or "Allow a Harmonious Connection" to send an apple through the Vanishing Cabinet.
The book Harry Potter Film Wizardry by Brian Sibley includes a WB-produced brochure from Borgin and Burke's in which the Vanishing Cabinet is labeled "Crushing Cabinet."
The Vanishing Cabinet is a piece of equipment used by Muggle magicians to make people or objects disappear with an illusion. A famous example is the magician known as Don Juan Cardoza (1889-1980). According to
Who's Who in Magic History, "(o)ne of his best known tricks was the Vanishing Cabinet, in which he made audience volunteers appear and disappear, and he had a standing '$1000.00 challenge' for anyone who could figure out how he did it."
Pensieve (Comments)
Tags: confusion connection disoriented Draco Remembrall Gryffindor-Slytherin rivalry lost Peeves Remembrall plans