To the Dark Lord
I now I will be dead long before you read this but I want you to know that it was I who discovered your secret. I have stolen the real Horcrux and intend to destroy it as soon as I can.
I face death in the hope that when you meet your match you will be mortal once more.
-- R.A.B. (HBP28)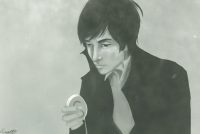 When attempting to destroy Voldemort's Horcrux made from Salazar Slytherin's locket, Regulus Black (R.A.B.) left behind a fake one in the sea cave (HBP26).
Commentary
Tags: bravery courage cruel fake Kreacher Remembrall mystery ocean poisons Regulus Remembrall water