"But I didn't think it a good idea for Lord Voldemort to materialize in the staffroom. I imagined that people would panic."
-- Professor Lupin (PA8)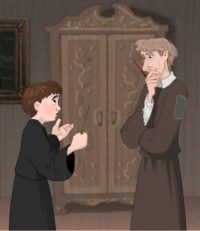 The staff room, or staffroom, is a long panelled room with mismatched, dark wooden chairs and a large wardrobe where teachers keep their spare robes (CS16), sometimes inhabited by a boggart (PA7). The staff room is located on the ground floor (PS16). The doorway is flanked by two sarcastic stone gargoyles which are known to challenge students trying to enter the room (OP17).
The staff room is where, long ago, History of Magic professor, Cuthbert Binns, sat in front of the fire and fell asleep. He simply got up to give his next class, leaving his body behind. There is some debate as to whether or not Professor Binns realizes he is dead.
Commentary