"I am sure that he was intending to make his final Horcrux with your death. As we know, he failed. After an interval of some years, however, he used Nagini to kill an old Muggle man, and it might then have occurred to him to turn her into his last Horcrux. She underlines the Slytherin connection, which enhances Lord Voldemort's mystique; I think he is perhaps as fond of her as he can be of anything; he certainly likes to keep her close, and he seems to have an unusual amount of control over her, even for a Parselmouth."
-- Dumbledore to Harry (HBP23)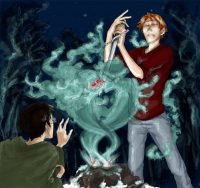 For the majority of Episode 25, Steve and Nick puzzle over the topic of Horcruxes, and more particularly how they are created and when Voldemort created each of his Horcruxes.  Listen in as we end up with more questions at the end then we had at the beginning.  We are back to audio only this week, but stay tuned, more Video podcasts will be coming soon.
What's New in the Lexicon
Lots of editing been happening
Server was just moved
Still need to move the SOLR server (used for search)
Timelines and a revamped Search is still ongoing
What's new in the Wizarding World
Not a lot since Fantastic Beasts
Slightly quiet times
New version of Fantastic Beasts book coming out
Audio book narrated by Eddie Redmayne (Newt Scamander)
Fantastic Beasts and Where to Find Them coming out on DVD and Blu-Ray on March 28th (iTunes and Amazon will get it Digitally on March 7th)
Work is going on for Fantastic Beasts 2. J.K. Rowling has been hanging out in the writer's room and tweeted a picture of a typewriter and the script
Having a Beastly day… pic.twitter.com/xRGCC9gt3B

— J.K. Rowling (@jk_rowling) February 27, 2017
In writer's room at film studio. How wonderful is this typewriter, provided by the props dept? pic.twitter.com/hEEauZ1LPH

— J.K. Rowling (@jk_rowling) February 28, 2017
Support the Lexicon
If you buy something on amazon, please consider using our link to get to Amazon before you buy, we'll get a percentage of your purchase
The March J.K. Rowling's Wizarding World Loot Crate is sold out, but you will be able to buy the May crate soon, or you can subscribe to any other crate, use promo code HPLEXICON and get a discount and help the lexicon at the same time.
If you really want to help, become one of our Patrons on Patreon and help us directly. We will be doing a great give-away to one of our Patrons (more on that at the end of the episode)
Horcruxes
Next we get down into talking about if using the Basilisk to kill Myrtle should count as murdering Myrtle
Then we start talking about Frank Bryce and Bertha Jorkins

Rowling said (BLC) that the murder used to turn Nagini into a Horcrux was Bertha Jorkins
Dumbledore says (HBP23) that Voldemort didn't even get the idea to turn Nagini into a Horcrux until Voldemort "used Nagini to kill a muggle man" which would be Frank Bryce, which was at least days, but probably weeks after he killed Bertha Jorkins
Possible Dumbledore is just wrong, but he was so right about everything else, right down to the fact that Nagini was made into a Horcrux during GF.

Dumbledore said that Voldemort would save horcruxes for particularly significant murders, what's significant of "A muggle tramp" or "Albanian peasant"
What's the deal with Voldemort's hiding plans, one super elaborate one, and the rest were… dumb
What is the process to make a horcrux (theory)

Have to do some sort of preparation
Have to premeditate the murder
Have to do the murder
Have to do something gruesome after (Nick is picturing physically ripping the fragment of soul out of your own body)

What did Lucius Malfoy know about the Diary?

Steve thinks that Malfoy only knew it was as Demonstrably Dark Item
Nick thinks that Malfoy knew it would lead someone to opening the chamber, but did not know it was a Horcrux

Do you have to make a horcrux right away?

There has to be at least some delay
Bertha Jorkins => Frank Bryce gives the case that it could be a long time
If there can be a long time, is the creator more vulnerable than usual with a ripped soul that is incomplete?

Barbara theory: When Harry sees the murder of Frank Bryce (GF1), he is not seeing it from Voldemort's perspective, nor Nagini, no Frank, he's seeing it 3rd party, could Harry be seeing through that fragment of soul, which is just hovering around in the room following Voldemort around?
Patreon Giveaway:
Next month we will give away this lovely White Gold and CZ MACUSA Key necklace from kingice.com to one of our patreon subscribers, so become one of our patrons and you can win this lovely key.
What Struck Steve:
King Ice has a bunch of other Fantastic Beasts jewelry, one of them is this pendant, and neither Steve nor Nick has any idea what this MACUSA symbol is, represents or comes from. If you know what this symbol is, please let us know down in the Pensieve.
Question of the Day:
Do you think that the murder has to be premeditated, and would Harry have become a Horcrux if Voldemort hadn't been planning on making a horcrux from his murder?
Let us know your answer to this (or any of your other thoughts about Horcruxes) in the Pensieve below and we'll be sure and keep this discussion going.
Wrap Up:
So glad we've solved all the mysteries of Horcruxes… just kidding, we need help, what do you guys think?
Thanks as always to Harry and the Potters for the use of their song for the theme music
Thanks for listening
Podcast: Play in new window | Download (Duration: 1:13:59 — 67.7MB)
Subscribe: Google Podcasts | Stitcher | RSS
Commentary