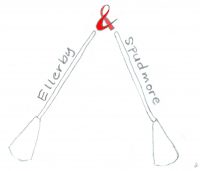 Ellerby is one-half of the broom manufacturing partnership Ellerby & Spudmore. He (or she) and Able Spudmore developed the Tinderblast and Swiftstick models of broom (QA9, Pm:Quidditch).
Ellerby
Species / Race
Witch or Wizard
Profession
Broom designer and manufacturer
Commentary
Etymology
Ellerby means "elf guardian village or homestead". It is of Anglo-Saxon/Old Norse origin and came from the East and North Ridings of Yorkshire (Internet Surname Database).
Pensieve (Comments)