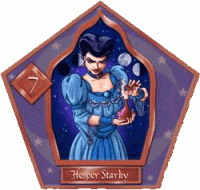 Hesper Starkey was a witch who studied the use of phases of the moon in potion making (FW).
Skills
Potion-making.
Commentary
Etymology
Hesper: From the ancient Greek "Hesperus," (and its ancient Roman equivalent, "Vesper"), who, in mythology was the evening star (source: Wikipedia).
Starkey: As in "star-key," because she studied heavenly bodies to get answers.
Pensieve (Comments)