"I'd have thought you could have whipped him up a remedy, Harry, an expert Potioneer like you?"
-- Slughorn, when Ron needed a Love Potion antidote (HBP18)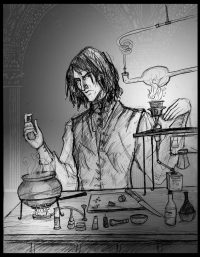 Potioneer is a title used for someone who makes potions, either as a profession or as an advanced student.
The following Witches and Wizards may qualify as Potioneers:
Note: Tom Riddle (Lord Voldemort) was not included. His potions fall under Dark Arts instead of potioneering.
Gregory the Smarmy - 2nd c. - invented Gregory's Unctuous Unction (PS9, FW)
Dzou Yen- 4th c. Chinese alchemist (FW)
Linfred of Stinchcombe - 12th c. - invented the Pepperup Potion and Skele-Gro (Pm)
Paracelsus - alchemist and healer (FW)
Nicholas Flamel - 14th c. alchemist who used the Philosopher's Stone to make the Elixer of Life (PS6,PS13, Pm)
Quintia McQuoid - died in 1407 from badly-brewed Cure for Ague Potion, Wizarding School Potions Championship named in her honor (BoP)
Zygmunt Budge - 16th c. inventor of Felix Felicis, Doxycide, Beautification Potion, Laughing Potion, Shrinking Solution, author of Book of Potions (BoP)
Gunhilda of Gorsemoor - 16th c. healer, discovered a cure for Dragon Pox (FW)
Mungo Bonham - 17th c. healer, founded St. Mungo's Hospital (FW)
Golpalott - made up at least three Laws of Potion making; his Third Law involved antidotes (HBP18)
Glover Hipworth - 18th c. improved or updated the Pepperup Potion (FW)
Laverne de Montmorency - 19th c. inventor of Love Potions (FW)
Sacharissa Tugwood - 20th c. inventor of Beautifying Potions (FW)
Hesper Starkey - 20th c. studied moon phases and effects on potions (FW)
Arsenius Jigger - author of Magical Drafts and Potions (PS5, Pm)
Libatius Borage - author of Advanced Potions Making (HBP9)
Dr. Ubbly - inventor of Dr. Ubbly's Oblivious Unction (OP38)
Albus Dumbledore - 20th c. discovered 12 uses of Dragon's blood, alchemist partner of Nicholas Flamel (PS6)
Fleamont Potter - 20th c. invented Sleekeazy's Hair Potion
Horace Slughorn - 20th c. Potions Master at Hogwarts (HBP9)
Hector Dagworth-Granger - founder of the Most Extraordinary Society of Potioneers (HBP9)
Damocles Belby - 20th c. invented the Wolfsbane Potion (HBP7)
Regulus Moonshine - 20th c. discovered a potion to suppress the appetites of hags (DP4)
Commentary
Etymology
c. 1300, pocioun "medicinal drink," from Old French pocion "potion, draught, medicine" + "-eer" meaning "one who" (operates, produces, deals in)
Pensieve (Comments)