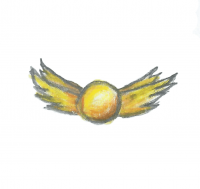 A Golden Snitch allegedly evades capture by either team's Seeker during a game on Bodmin Moor in 1884; some say it is still out there somewhere, living wild on the moor (QA6).
A Snitch escapes during a Quidditch game
Type of Event
Wizarding world
Commentary
Notes
Although the Snitch is charmed to resist being caught, Seekers usually are able to capture them in order to end the game. This game ended because both teams were disgusted by their Seekers' failures (QA6).
Quidditch lists on the Lexicon: Quidditch
Pensieve (Comments)