"The ring, Harry. Marvolo's ring. And a terrible curse there was upon it too. Had it not been — forgive me the lack of seemly modesty — for my own prodigious skill, and for Professor Snape's timely action when I returned to Hogwarts, desperately injured, I might not have lived to tell the tale. However, a withered hand does not seem an unreasonable exchange for a seventh of Voldemort's soul. The ring is no longer a Horcrux."
-- Dumbledore, not telling the whole truth about his encounter with the Ring (HBP23)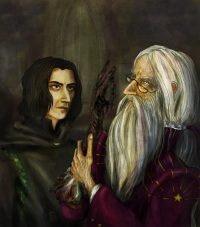 Dumbledore discovers the ring in the ruins of the Gaunt hovel near Little Hangleton. He takes it back to his office at Hogwarts where he uses the Sword of Gryffidor to destroy it.
Timeline Notes
According to HBP33, Dumbledore found the ring between Harry's fifth and sixth years at Hogwarts, shortly after Draco is given the task of murdering the Headmaster. When Dumbledore arrived at Privet Drive to collect Harry on 12 July 1996, his hand is already damaged from the encounter with the ring, so we assume that the destruction of the Horcrux happened in the first two weeks of that month -- between the end of the fifth year in June and the visit to Privet Drive on the 12th of July.
Dumbledore destroys the Ring Horcrux with the Sword of Gryffindor
Certainty
Inferred from canon
Type of Event
Wizarding world
Commentary