"My dear Prime Minister, you can't honestly think I'm still Minister of Magic after all this? I was sacked three days ago! The whole Wizarding community has been screaming for my resignation for a fortnight. I've never known them so united in my whole term of office!"
-- Cornelius Fudge to the Muggle Prime Minister (HBP1)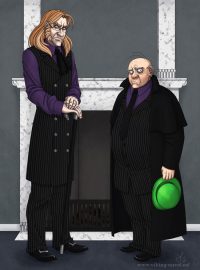 Fudge has spent several years telling the public that Voldemort is not back and vilifying Dumbledore and Harry in the press. When Voldemort appears in the Atrium of the Ministry of Magic, battling Dumbledore and leading a group of Death Eaters, Fudge must admit he was wrong and he is drummed out of office.
With the revelation that Voldemort has in fact returned, Fudge resigns in disgrace
Certainty
Inferred from canon
Type of Event
Wizarding world
Commentary
Tags: changes leadership war