Anyone interested in the role played by the Golden Snidget in the development of the game of Quidditch is advised to consult Quidditch through the Ages by Kennilworthy Whisp (Whizz Hard Books, 1952).
-- Newt Scamander, Fantastic Beasts (FB)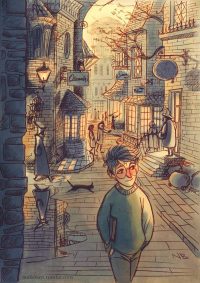 WhizzHard Books is a publisher located at 129B Diagon Alley. Two of the titles WhizzHard has published are Quidditch Through the Ages and Hairy Snout, Human Heart.
Commentary
Pensieve (Comments)
Tags: books Diagon Alley businesses