"According to Which Broomstick, the Firebolt's going to be the broom of choice for the national teams at this year's World Championship."
-- Lee Jordan (PA13)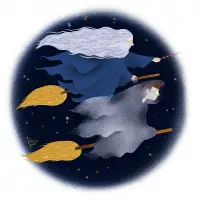 Which Broomstick is a wizarding magazine which contains articles comparing the various types of brooms available, new brooms and other features.
Appearances
Harry Potter borrowed a copy from Oliver Wood to read up on the different makes of broom when he needed to replace his Nimbus 2000 (PA10).
There is an order form at the back that can be used to order a new broom (PA12).
Lee Jordan quoted Which Broomstick's article about what the World Championship brooms that year would be (PA13).
Ron Weasley quoted the article about what the Comet 260's maximum acceleration was (which could only be achieved with a decent tailwind) while singing the praises of his own new broom (OP9).
The editor of Which Broomstick is quoted in the "Praise" section at the beginning of Kennilworthy Whisp's book Quidditch Through the Ages (QA).
Commentary
Etymology
In the UK, "Which?" magazine publishes special edition consumer guides such as Which Car and Which Laptop. Which Broomstick would fit right into this stable.
From the Web
WizardingWorld.com (Pottermore) features:
Harry Potter Wiki: Brooms
Pensieve (Comments)
Tags: choices flying guides reading specialists transportation