"According to Which Broomstick, the Firebolt's going to be the broom of choice for the national teams at this year's World Championship."
-- Lee Jordan (PA13)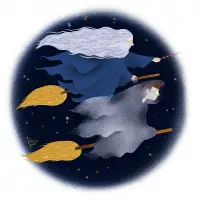 Which Broomstick is a wizarding magazine comparing the various types of brooms available.
The magazine has appeared several times:
Commentary
Etymology
In the UK, "Which?" magazine publishes special edition consumer guides such as Which Car and Which Laptop. Which Broomstick would fit right into this stable.
Pensieve (Comments)
Tags: choices flying guides reading specialists transportation