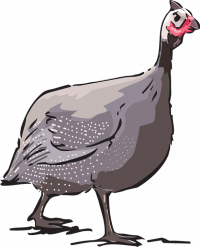 The guinea fowl is a large turkey-like bird native to Africa, often domesticated.
In Fourth Year, Professor McGonagall taught the Transfiguration Class how to do cross-species switches, changing Guinea fowl into Guinea pigs - although Neville's guinea pig kept its feathers (GF22).
Commentary
Etymology
Guinea = an area of the African coast where the birds originated
Notes
The idea that it would be easier to switch two creatures with similar-sounding names is also known as sympathetic magic.
Pensieve (Comments)
Tags: animals transformation