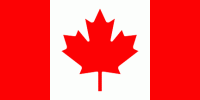 This step against the Meteorites was finally taken because of their habit of celebrating a victory by flying over villages trailing sparks from their brooms (QA8).
The Moose Jaw Meteorites are threatened with disbandment
Certainty
Stated in canon
Type of Event
Wizarding world
Commentary
Notes
The Moose Jaw Meteorites are a talented  are a Quidditch team from Saskatchewan in Canada. As they now limit their victory displays within the Quidditch pitch, this practice has become a tourist attraction in Moose Jaw (QA8).
Lexicon list of World Quidditch teams
Pensieve (Comments)