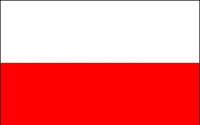 Bonawentura Wójcik played Seeker for the Polish National Team in 2014.
Prior to the start of the 2014 Quidditch World Cup tournament, Wójcik was accused of being the transfigured Italian star Seeker Luciano Volpi. This was disproved by them standing side-by-side at a press conference (QWC).
However, by the time of Poland's first game against Japan (which they lost by 350 points to 140), Wójcik had been replaced as the team's Seeker by Wladyslaw Wolfke (QWC).
Other canon notes and references
Since Viktor Krum, born 1976, was the oldest player at the tournament (QWC), Wójcik must have been born after 1976.
Bonawentura Wójcik
Profession
Quidditch player (Seeker)
Commentary
Etymology
Bonawentura (Italian: bonaventura) means "good fortune". Saint Bonaventura was a 13th-century Franciscan monk who is considered a Doctor of the Church (Behind the Name).
Wójcik (also: Wojczik, Wojczyk, Wojszyk) is a common surname in Poland, possibly deriving from wojak (warrior) or wójt (chief officer of a municipality) (Wikipedia).
Notes
Is there something to be conjectured about the replacement of Bonawentura Wójcik as Polish Seeker by Wladyslaw Wolfke by the time of the actual tournament? Did Wolfke and Luciano Volpi ever appear anywhere together?
Lexicon timeline of Quidditch
Lexicon lists of:
From the Web
Writing by J K Rowling on WizardingWorld.com (Pottermore): The Daily Prophet
Writing by J K Rowling on Imgur (Daily Prophet coverage of the 2014 Quidditch World Cup, originally from Pottermore):
Harry Potter Wiki: Bonawentura Wójcik
Pensieve (Comments)
Tags: cheating competitions/competitors disappear international match mystery teammates teams tournaments