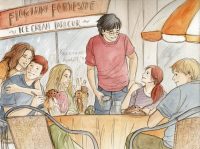 An ice cream parlor in Diagon Alley  with outdoor tables, where Florean Fortescue served Harry free ice cream sundaes and offered advice about medieval witchcraft for a report he was writing (PA4). The shop was boarded up after Florean disappeared mysteriously in 1996 (HBP6).
Commentary
Notes
Q: I have to ask this little thing that's been on my mind... what happened to Florean Fortescue?
JKR: Uh, he was killed. I didn't want that to happen. Bizarrely, my best friend, after I named Florean Fortescue, she went and met, and is soon to marry, a guy called Florean, which is very bizarre, because it isn't exactly a common name, is it? Because of him, I was very attached to Florean Fortescue but no-- Yeah, he died. He died.
Q: He was just an ice cream man, wasn't he?
JKR: The Scottish Book will reveal there was more to that than subsequently made it into the books. It was one of those little sub-plots that had to be sacrificed because it was not really leading anywhere, but I did have a sub-plot planned for Florean. And it was to do with the Elder Wand, so I will definitely put that into the Encyclopedia. (PC/JKR2)
On Pottermore, Flourish and Blotts was on the left side, next to Madam Malkins (Pm).
Pensieve (Comments)