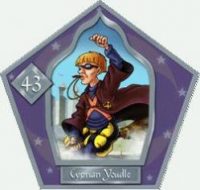 Cyprian Youdle was the only Referee ever to die during a Quidditch match. The originator of the curse was never caught, but was believed to have been a member of the crowd (FW, QA6).
Cyprian Youdle
Profession
Quidditch Referee
Commentary
Etymology
Cyprian is a name derived from the Roman family name Cyprianus, which in Latin denotes a person who comes "from Cyprus" (Behind the Name).
Youdle may be a surname for someone from the area around the Yewdale River in the Lake District (English Lakes). This name derives from the Old English word yew (a type of tree) and the Old Norse dalr ("valley") (House of Names).
Pensieve (Comments)
Tags: death Quidditch history Referee violent Quidditch fans